How to Make a Powerful Remote Control Car at Home
Hello friends, welcome to hackerom.com. Today we are going to learn two way to make a powerful remote control car. We will make the first remote control car with popsicle sticks and second 4wd car with a cardboard sheet. Both cars are powerful because in these cars we use four dual shaft gear motors with a lithium-ion battery. Let's starts making the first car.
Powerful Flat Remote Control Car :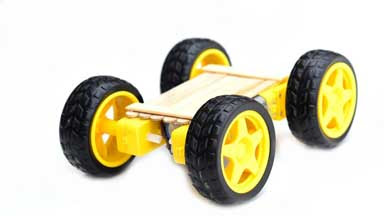 Four dual shaft gear motors.

Four gear motor's wheels.

Eight popsicle sticks.

A remote control board that can control two motors.

A powerful lithium-ion battery.

Glue gun

Solder

Wires
Cut four small wires to connect two sets of the motor.

Sold wires as shown in the picture.

Sold first RC board's motor wire to the first pair of motors and second RC board's motor wire to the second pair of motors.

Sold RC board's battery wires to the battery.

Take six popsicle sticks and put them in a row and two popsicle sticks over it and glue it.

 Put the motors, RC board, and battery on the popsicle sticks bed.

Glue everything systematically and properly.
The powerful remote control car is now ready to run. Take your remote and have fun. This RC car can move 360 degrees. So we can call it a 360 degrees moving car. This car tries to climb on the wall and fall back every time. This is the amazing thing about this car. You can see the picture below.
The Remote control 4wd car is another very powerful car. This is a design of 4wd using cardboard sheet. This can carry some loads also. Let's start.
Four dual shaft gear motor

Four gear motor's wheels

A battery

Remote control board that controls two motors

Wires

Soldering iron

Glue gun
Draw 26cm long and 15 cm wide diagram of a 4wd car chassis design on a cardboard sheet and cut it. You can increase or decrease the size of the wheel place according to the size of the wheel. Cut two chassis of the same size.

Sold motors, RC board, and battery as we did in the first car.

Place the motors, RC board, and battery on the chassis and glue it properly.

Take another chassis and border sheet and glue over it.
The car is now ready for use. Take your remote and control the car.
This car also moves 360 degrees. This is a very powerful Rc car. You can put 3 to 4 kg of weight over it. It will carry that load smoothly. This car is best for many DIY projects. This is a flat car which has space on the body so we can use this space for many other tasks. 
I hope you like these two cars. 
Feel free to comment here. If you have any questions, suggestions for me and ideas please share with me. Subscribe to our website and my youtube channel.